Alt.Title: Procrastination For the Loss
In this thread, I will be posting and commenting on projects that I have worked on in the past few years, be them sprites or games, and ponder on why I stopped working on them. Possibly, I might decide to go back on them!
Also I might give updates on my current projects.
Let's start with the current projects I'm working on:
Sprites
Doll Style (Work in Progress)
This is the most recent style I've been working on. As you can see, it's reaaaaaaaaaaaaaaally small.
I used SMW as a reference for poses. I made this style mostly for editing purposes, although I'd like to use it someday in something.
Effort Clash Style (Work in Progress)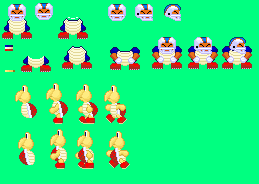 Effort Clash Style is probably the style I'm most proud of, in terms of details and shading.
"Effort Clash" because I felt like I spent a lot more effort per pose on this than other styles, and also because it clashes heavily with most commonly edited styles - such as SuperStar Saga style.