---
---
What you felt was a cage was actually Layer 2 (can be verified with this scores thing), and you cannot actually have vertical level with transparency in vanilla SMW, as there is no correct level mode (which I assume is why Layer 3 graphics were used).
---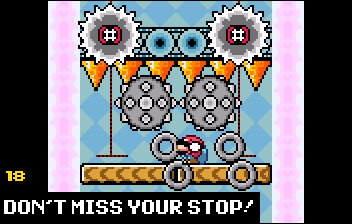 A really excellent level heavily marred by one segment. It's a shame because I really liked the level overall. It probably took us just shy of 30 minutes to beat but compare it to the black and white flying yoshi level (Episode 15) and the big difference is that I was generally having fun with this level even as I was continually failing.
(Also Pyro if you're still watching, the people on SA were curious to hear any sort of dev commentary on your level since they generally thought it was a neat and good level)
---
Posts: 238
Joined:

7 years ago

Location: exotic horse island
It actually should be called Swizz Hotel.
swizz
noun [ S ] also swiz uk ​ /swɪz/ us ​ /swɪz/ UK old-fashioned informal

something that is disappointing or unfair:

"There's only half as much in the new packets. "What a swizz!"
dont wanna jihad no more
---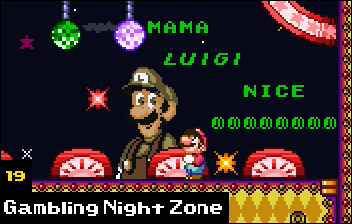 What an amazing-looking level! It's almost too good looking. As in, while it's visually amazing it's also very visually confusing. This is a rare instance where the level can actually overstimulate the player with signals and information. In the end though, it's a very good and fun level otherwise with an incredibly creative theme, beautiful execution and a clever twist on the theme for the secret exit.
---
mfw
I guess the dev commentary would be that it was a level sort of made at the last second to replace my old submission. My original submission was your typical newcomer level where it's just a mess of gimmicks and ideas and it had no coherence, and I realized this when I still had the chance so I made something cuter and dumber. The accelerator blocks were an accident with map16 and I just rolled with it. I mainly don't like the level because I don't think it uses its gimmicks very well and the bonus cave section looks awful. I don't necessarily think it's bad, it just could have been so much better. I like my VLDCX entry a lot more.
---
I took a look at the cave section because we did miss it when playing on recording.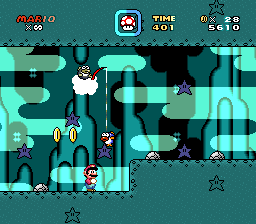 You're probably right about it overall. It's not the prettiest section visually and I don't think it adds much to the level. It's pretty long, you have to constantly deal with the Fishin' Boo, there really aren't many enemies in it and the accelerator blocks are totally absent.
I think that the accelerator blocks are neat, but there's just not much that can be done with them in terms of iterative challenges or setups. I still think the level was super fun to play though and that's what mattered for me in the end. The creativity of fish replacements was great.
---
---
---
---
Who is online
Users browsing this forum: No registered users and 2 guests